3 Workshop Series: Keys to Connecting to Your Inner Guidance at Anderson
About the workshop
3-Workshop Series: Keys to Connecting to Your Inner Guidance
July 30, 31 & Aug 1 (see times below)
$135
Ashley is a renowned Yoga and Meditation teacher, as well as Intuitive Guide and Somatic Facilitator currently living in Bali. She comes to us this summer on her U.S. workshop tour called Keys to Connecting to Your Inner Guidance.
You can receive a 10% discount when you sign up for all 3 workshops at once. Read about the workshops below.
Intro to Akashic Records
Friday July 30th
7:30-:9:00pm
The Akashic Records, are an energetic "blueprint" of everything and thought that exists within the Quantum Field. Every soul has a record of all past, present and future possibilities. You can connect to your own Soul's Record in order to unlock the secret potential in your life, a deeper connection to the Divine, clearing of energetic blocks and clear guidance for the next steps forward.
Understand what the Akashic Records are, how they are related to science, and a Universal perspective that includes you in it.
Learn the ways you may already be accessing the Records without knowing it.
Understand how they are used for wisdom, guidance, healing and to improve every aspect of life, including love, relationships, career, health and finances.
Learn what an Akashic Records Reading would be like.
Receive resources to deepen your experience of the Records.
-------------------
Honing Your Intuitive Abilities:
Saturday July 31
1:00-3:30pm
Humans are born supernatural and with the ability to receive the answers to Life's biggest questions. But because society doesn't value this, we have lost our sense of how to connect to our most valuable asset - Our Intuition.
Intuition helps us make confident, self-resourced decisions that are completely aligned with out Soul's Highest Purpose. This workshop shows us how to do just that.
Learn the 4 primary ways you can receive guidance from the Universe.
Practice these tools with others and get feedback.
Find out what your unique intuitive gifts are.
Get the opportunity to ask questions and get guidance.
Discover the secret ingredient of getting the answers to your deepest life questions.
Receive a uniquely formulated meditation to strengthen your intuitive abilities
Leave with a practical map of how to develop your skills for your best life possible.
——————————
Increasing Emotional Intelligence and Harnessing Empathic Power
Sunday Aug 1
1:00-4:00pm
Feel like your emotions get triggered a lot and that you "feel" more than other people? Perhaps that you're more sensitive than others, and thus, more vulnerable? What if I told you there's a way to turn your emotions into powerful tools that actually help you get a "leg up" on life and are indeed one of your superpowers? From Fear, Anxiousness, Anger and Sadness to Joy, Fulfillment, Freedom and Confidence. This is a deep dive into knowing yourSelf, & what your Soul is trying to tell you through your very own body and feelings.
Learn special somatic (conscious movement) techniques to ground into your body, connect your body with the Earth and why this is important.
Learn a special process to integrate your emotions. Find out how to listen to your emotions and understand what they are telling you about your Soul's Highest Aligned Direction and Purpose.
Discover how to be better in relationship to others, give yourself the love and attention your subconscious is calling for and rise to your most authentic potential in every moment of life.
Have fun, discover new insights about yourself and how to relate and navigate through life more effectively from a place of Wholeness.
Friday
Jul 30, 2021 - Aug 1, 2021
03:45 pm - 04:00 pm

at Anderson
EVENT ENDED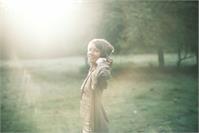 Since 2013, I have been supporting groups and individuals into healing and spiritual awakening through yoga, meditation, self-development programs and Akashic Records. I'm an Advanced Akashic Records Practitioner and Emotional/Energetic Healer.
I offer a unique group method called Embodied Wisdom Practice that involves Akashic Records Activated Embodiment Feedback, Authentic Relating and Meditations.
I'm a 500-RYT Certified Yoga and Meditation Teacher, having led retreats and 200hr Yoga Teacher Trainings for 7 years and diving deep into the worlds of Veda, Vedanta and Tantra in India. I studied in depth with western masters through grounded methods like Holographic Feedback, Authentic Interpersonal Communications and Somatic Bodywork.
I currently reside in Bali and do online private and group Akashic Records work.
*My mission is to help people connect to the answers that reside within them already, their own Inner Compass and Divine Life Purpose. *