Astrology for Profound Self-acceptance at Anderson
About the workshop
Discover the depth of you by understanding the very basics of your astrological blueprint!
Astrology is a tool to get connected to your deepest truth because your natal chart is a blueprint of who you decided to be when you came on the planet. During this Masterclass, I will teach you the basics needed for you to be able to read your own astrology chart and have profound and radical self acceptance. There is a depth of wisdom and knowledge that your astrology chart has for you if you are willing to study it.
This is for you if:
- You have co-star and have no idea how to interpret it but want to learn
-You want to have deeper meaning with yourself so you can deeply love and accept yourself
-Want to boost your self awareness and confidence
-Want to feel more connected to your purpose, emotions and self-expression
- Want a deeper level of understanding to the people around you
- You are interested in learning more about Astrology!
Learn how to:
- Read and understand you Sun, Moon and Rising Sign on your Natal Chart
-Understand how the house it sits in influences each sign
-See what elements and modalities influence each sign
- During class you will receive a worksheet that will help you through the process.
Natalia Ochoa is a Certified Astrologer, Intuitive Channel and Leadership Coach. She uses intuition to tap into your higher self, soul and collective consciousness to access your energetic and soul blueprint. She merges intuitive channeling, astrology and personal development to help artists, executives and entrepreneurs who are seeking to consciously lead in their respected fields. She mentors them on how hone their intuition for optimal success in business, life and love.
Saturday
Jul 17, 2021 - Jul 17, 2021
04:00 pm - 06:00 pm

at Anderson
EVENT ENDED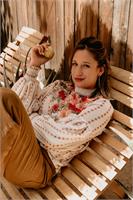 Natalia Ochoa is an Astrologer, Intuitive Channel and Energy Healer. She helps entrepreneurs, artists and creatives awaken and hone their intuition in order to reach optimal success in both their career and love life. She uses intuition to tap into your higher self, soul and source energy to get access to your energetic and soul blueprint to give you instruction on tangible next steps to improve your current relationship obstacles, career blocks or past healing. She does this by helping you identify your blocks and limiting beliefs in order to attain fulfillment of your heart's desires so that eventually the process of healing and awakening becomes an independent one.