(In Person) The Goddess Within at Westgate
About the workshop
It is time to let your divine feminine goddess come out and play! In this, only female identifying class, we look forward to creating a safe space for you to explore your inner most divine femininity.
Learn how to harness the power of your feminine energy to create more openness and flow in your body, relationships and life.
Ochoa will guide you through a moving practice where you will be able to:
Break through emotional blocks on your femininity
Tap into the love within
Move your body in ways that feel freeing and flowing, relaxing tension in your body
Tap into your intuitive divine wisdom
Allow your heart to open and radiate
Share intimate space with other women in a safe container where you will feel seen and heard
Get out of your analytical head and into your heart and body
Learn how to attract more conscious people into your life
Create more intimacy with yourself so you can take it home and add it to your solo or partner practice!
Please make sure to bring a journal and pen.
This session is a safe space for emotional and physical expression in order to create full body sovereignty.
Saturday
Aug 28, 2021 - Aug 28, 2021
11:00 am - 12:30 pm

at Westgate
EVENT ENDED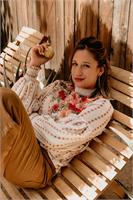 Natalia Ochoa is an Astrologer, Intuitive Channel and Energy Healer. She helps entrepreneurs, artists and creatives awaken and hone their intuition in order to reach optimal success in both their career and love life. She uses intuition to tap into your higher self, soul and source energy to get access to your energetic and soul blueprint to give you instruction on tangible next steps to improve your current relationship obstacles, career blocks or past healing. She does this by helping you identify your blocks and limiting beliefs in order to attain fulfillment of your heart's desires so that eventually the process of healing and awakening becomes an independent one.