(Online) Intro To Kundalini (Series) at Online
About the workshop
In this series, we will cover the basics of Kundalini Yoga as a beginner's practice. The completion of this series should allow the participant to attend almost any Kundalini class and have a working knowledge of the terms and techniques he/she will encounter.

Instead of learning just the rudimentary language and tools of this practice, we will attempt to get first-hand experience of the technology utilized in this style, and how the various facets we learn about can be used to maximum advantage as we encounter the circumstances presented in our lives.

Siri Bahadur has been practicing and teaching Kundalini Yoga for over forty-five years. He teaches drop-in classes, workshops, and trains Kundalini Yoga Teachers. He has a love of yoga, meditation, mantra, and the use of instrumental sounds (guitar, gongs, and bowls) to enhance the experience of asana, pranayama, meditation, and relaxation.
Thursday
Jan 20, 2022 - Feb 24, 2022
06:30 pm - 08:00 pm

at Online
EVENT ENDED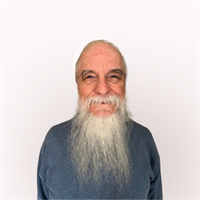 Siri Bahadur began his practice of Kundalini Yoga in 1974 and has found the art and science of this style of yoga to be one of constant unfolding discovery. His passion is sharing by teaching, fed by the Kundalini premise of realizing the conscious mindset of the possible human. Breath, movement, and sacred sound are staples in his classes.
CERTIFICATIONS
Kundalini Teacher 500-hour Certification
Kundalini Level Three Certification
Kundalini Level One Certified Teacher Trainer
Kundalini Level Two Certified Teacher Trainer
Kundalini Certified Gong Trainer
TEACHING STYLES
Kundalini Yoga
Kundalini of Sound
Gong Trainer
WORKSHOP STYLES
Kundalini Chakra Workshop
Kundalini Ten Light Bodies Workshop
Kundalini Pranayama Workshop
Kundalini Mantra and Meditation
Holding the Healing Zero Space of Shunya