Beginners Yoga Series at Anderson
About the workshop
Join Kimberly on a 4 weeks journey through the basics of Hatha Yoga. Learn or re-learn basic breath practices, proper alignment on and off the mat, benefits of the postures, modifications, stress relief and more. Explore practices to prepare you to enter a Hatha or Flow class safely and confidently.
(January 8th) Class 1: The Basics
Explore the breath, including our Yogic breath and learn the basic foundations of a Hatha Yoga Practice.


(January 15th) Class 2: Forward Bends and Side Bends
Building from the previous week, we will play with the spinal movements of forward bending and laterals. Discover the benefits as well as contraindications of the postures.


(January 22nd) Class 3: Twisting and Balancing
We will build into spinal twists and explore a playful balancing practice for strength and focus.


(February 5th) Class 4: Backbends and Inversions
Open your heart with our final spinal action, and see the world from a new perspective as we explore back bending and gentle inversions.
Online Option Available: https://flowyogatx.com/event-detail/?event=3160&program=23
Saturday
Jan 8, 2022 - Feb 5, 2022
02:00 pm - 03:15 pm

at Anderson
EVENT ENDED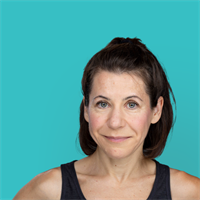 Kimberly is an E-RYT 500 certified yoga instructor. As an actor in NYC, she used the Ashtanga Primary series for warm-up before every stage performance. Yoga was, for her, the key to breath support and presence. So in 2002, she began her journey as a teacher. Kimberly holds a lighthearted space, focusing on breath, alignment, and self inquiry.
CERTIFICATIONS
TEACHING STYLES
Hatha

Hatha Flow

Yoga For Stress Management
WORKSHOP STYLES
Yoga For Grief and Healing

Stress Management