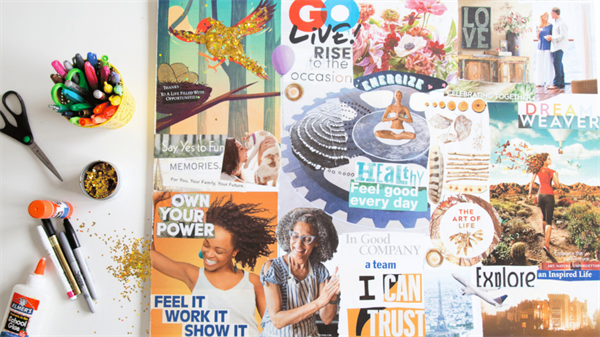 Vision Board & Yoga (Online) at Online
Get ready to make 2023 amazing!!
Join Maya & Carolina for an afternoon of movement, creativity, inspiration, and manifestation.
This workshop includes:
A short gentle yoga practice
Guided meditation with a sound bath
Guided prompts to create your vision board
All supplies are included but please feel free to bring any magazines to share, the more the merrier!
A vision board is a collage that uses the law of attraction to draw more of what you want into your life. Vision boards can focus on something specific like career, love life, or the upcoming year. Or, you can make a board that encompasses your general life intentions., the boards become a reminder of the goals you are working toward in your life.
During the yoga practice, we will stretch and focus on how we want to feel in addition to just thinking about what we want. By thinking about the way we want to feel in our day-to-day life, we will begin to look at our goals and desires differently.
For the vision board, we will use the art-making technique of collage with magazine pictures, written words, and symbols. Feel free to bring any photos you have or any other pictures you find important. The idea is to create a visual representation of your goals.
Enjoy the magic of creating your vision board with a group of like-minded people to envision and set up your new year in motion.
Maya Heegel
Meet your host
A little glimpse into
who we are