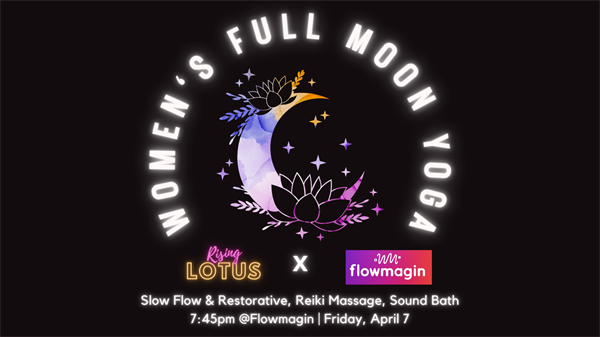 Women Full Moon Yoga Party at
Calling all the fabulous ladies out there! Get ready to party under the luminous glow of the Libra pink moon at the Rising Lotus Women's Full Moon Yoga Party on April 7th, 7:45pm at Flowmagin! Located in East Austin at 2505 E 6th St, Austin, TX 78702

This is the ultimate fun-filled evening of self-care, sisterhood, and rejuvenation that you don't want to miss!

The Libra pink full moon is named after the pink wildflowers that bloom during this time of year. And we're going to channel that beauty and feminine energy into our practice! Libra is a graceful and balanced sign that encourages us to seek harmony in ourselves and with those around us!

We're starting off the party with a women's circle where you can meet and mingle with other women. Then, we'll guide you through a group meditation to help you connect with your inner self. After that, it's time for some all-levels yoga fun with 30 mins of slow flow and 30 mins of restorative yoga. You can bring your own mat, but all props will be provided. And to take the relaxation up a notch, we're offering Reiki massage to help balance your energy while you're in restorative postures. To wrap up our practice, we'll soothe your soul with a blissful sound bath in savasana.

After class, we'll have refreshments and plenty of time to relax and mingle with your new sisters! Trust us, you don't want to miss this chance to celebrate the pink moon and the power of sisterhood! So, bring your friends or make some new ones! Space is limited, so register now! See you there, ladies!
Natasha and Julia
Meet your host
Natasha and Julia met in January 2020 at Black Swan Yoga teacher training here in Austin. Their friendship blossomed over the years, and they discovered their shared vision of cultivating a community of women centered around wellness. Natasha is a certified reiki master that specializes in restorative yoga and sound healing. She's passionate about
raising the consciousness of the collective. Julia is an RYT-200 yoga instructor that teaches vinyasa flow, pranayama, and meditation. She's passionate about balancing the nervous system through various modalities and helping people strengthen their mind/body connection to find greater ease. Like fire and water, these two instructors' energies complement each other like
yin & yang. Follow along @RisingLotusATX on Instagram!
A little glimpse into
who we are