(In Person) Summer Solstice Celebration at Anderson
About the workshop
We are on the planet to heal.
Summer Solstice, for centuries, has been celebrated by many cultures to both acknowledge and partake of the HEALING ENERGY of the Sun's light with this being the longest day of LIGHT during the year.
This 2-Hour Workshop will first utilize a kriya (exercise set) to more fully open our meridian lines that move energy to our organs and glands.
Next will be two (2) 31 minute mediations to bring the healing energy of the Sun's rays through those open meridian lines.
There will be an 11 minute Gong Relaxation after the 2nd Meditation.
Sliding scale donation - $30, $35, $40
-
Gurudhan, RYT 500, has been practicing and teaching Kundalini yoga since 1971.
Emphasis is placed on explaining the physiological effects of Kundalini energy based on ancient Chinese traditional energy meridian lines and points as well as how breath technology effects our nerves and glands.
Gurudhan has taught Kundalini yoga in:
New York City 1971 - 1997
Los Angeles 1998 - 2012
Austin 2013 - Present
His Kundalini classes will provide a strong physical workout, an opportunity to "deep relax" afterward, and a meditation at the end of class to elevate the soul.
Sunday
Jun 20, 2021 - Jun 20, 2021
09:00 am - 11:00 am

at Anderson
EVENT ENDED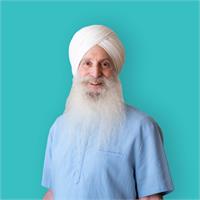 Studied with Yogi Bhajan, master of Kundalini Yoga, for 33 years starting in 1971. My many personal interactions with Yogi Bhajan have impacted and influenced my teaching style and presentations. Teaching venues: New York City (1971 - 1997), Los Angeles (1997 - 2012), Austin (2013 - Present)
CERTIFICATIONS
TEACHING STYLES