Group Reading at Cedar Park
About the workshop
This heart centered gathering is a place for people to connect with their spirit guides, helpers, loved ones who have crossed over, and with themselves. Nicole Parish is an intuitive reader and psychic medium who has communicated with the spirit world for over four decades. During this reading, Nicole will lovingly pass on messages to share with the entire group and with some individuals. Often, Nicole is guided by spirit to lead the gathering through some meditative process. This can be anything from centering, cleansing our auras or energy fields, cutting attachments to others, strengthening the boundaries and protection we have around us, or whatever our guides recommend. It is exciting to see what unfolds!
Nicole began seeing and speaking with spirits when she was 8 yrs old. So began her journey of connecting with spirits, passing along messages of love, and helping others connect with their team of light. Nicole's passion is being a vehicle of love and healing. She fosters people in building relationships with their spirit team and loved ones, helps people heal non-coherent patterns, and assists in unlocking their inner wisdom. Nicole DELIGHTS in seeing who shows up and is always curious what will come through.
Please note, due to the number of people who will be attending only some people will receive individual readings. However, every person will be part of the group meditations and often benefits from hearing other people's messages.
What To Bring:
*There are yoga mats, blankets, and bolsters available. If you desire something else that will help you sit more comfortably, please bring it.
*Open minds and warm hearts are welcome and wanted!

For most people this opportunity will be a new and unique experience. As a group, let us take some centering breaths, open up to the spirit realm, and jump into this fun and expansive gathering!
Sunday
Jul 18, 2021 - Jul 18, 2021
02:00 pm - 03:30 pm

at Cedar Park
EVENT ENDED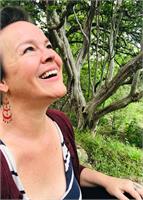 Nicole Parish is a psychic medium, a person who communicates with the spirit realm. The first time Nicole remembers seeing and speaking with a spirit, she was eight years old. It was a very comforting experience for her. One which has ushered in over forty years of communication with the spirit world. Nicole has two young adult children who are also psychic, as well as her father, aunt, grandmother, and others in the family. In her one on one private and group sessions Nicole connects with a person's spirit guides, guardian angels, helpers, and loved ones who have crossed over. The messages people receive are on a wide variety of subjects such as work, partnership, healing old patterns, finances, loving words from a relative, and more. In each experience, Nicole creates a comfortable and loving space for the person to connect with their team of light.